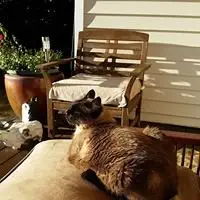 OUR PHILOSOPHY ON PET CARE
Timberland Animal Clinic is a full service clinic designed to establish a longterm  relationship between a pet owner and doctor.  This relationship consists of a pet owner knowing that the same doctor will always be responsible for the care of their pet and that they have the ability to speak with that doctor every day if needed.  We realize that this relationship is one of the most important criteria that a pet owner requires and hopes for.  We make a great effort to keep this at the top of our service list. We offer  an in-house testing lab for rapid result on bloodwork, parasite exams and cytology. True Digital Radiographs (X-rays) and Sonography(Ultrasound) are part of our diagnostic expertise. Dr. Becky Marks has added herbal and naturopathy .  Western Medicine and Eastern Medicine meet here. Our Clients praise us for our follow-up care. You will get a phone call to check on your pet the day after surgery or updates for recent illnesses. We can mail your medications if you wish. We work to make your life convenient in this hectic world.
Is your pet sick ? Call now to set up an appointment. If your pet is healthy , call now to get established with our clinic. Often a baseline of information can be invaluable if your pet becomes ill.